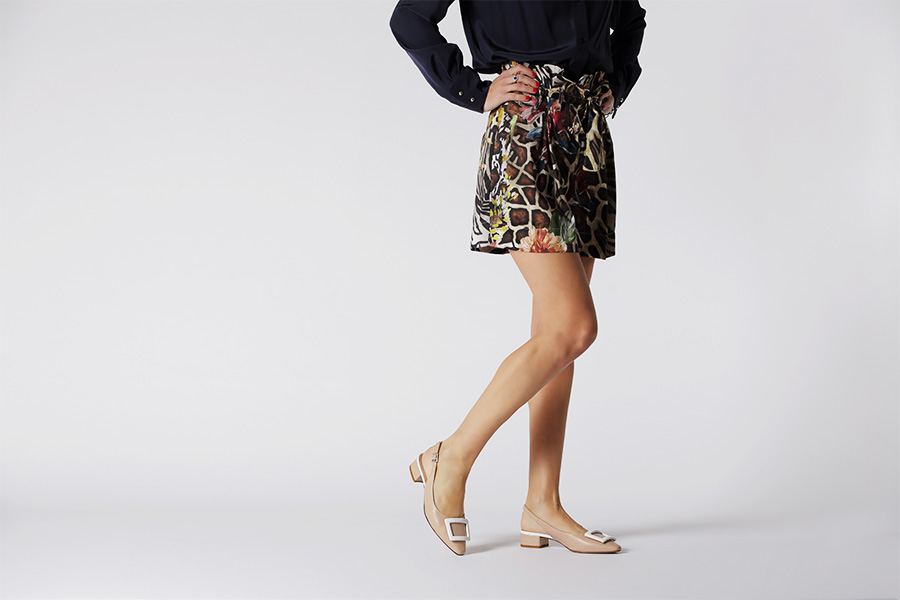 Item 7327
The 7327 slingback is a leather shoe with contrasting inserts, midi heel and accessory applied on the front; it is comfortable and versatile, perfect for everyday wear.
You can find it in three different colors: black leather with white leather inserts, nude-colored leather with white leather inserts and finally navy blue leather with white leather inserts.
The slingback is easy to combine and suitable for all occasions, thanks to its comfortable heel and the bon ton style gives elegance to your look.
Would you like some advice for creating outfits with Voltan's article 7327?
Here are some ideas for you!
For a basic style, we can combine a skirt and a t-shirt with the slingback. For example, a powder pink pleated knee-length cotton skirt, a white t-shirt with pearl detail on the neckline and finally item 7327 in the nude version by Voltan.
For a jauntier and more casual outfit, we combine jeans with a blouse together with slingbacks. The jeans we chose are dark blue with a high-waisted fit mom model, while the blouse is blue, in soft chiffon with a V-neck and puffed sleeves, combining everything with item 7327 in the navy blue version by Voltan.
Finally, as elegant clothing, we can wear a dress and comfortable slingbacks. The dress we are offering you is a long anthracite empire-style dress with a contrasting black waistband, sleeveless crew neck and tulle details on the end of the skirt, concluding the outfit with item 7327 in the black version by Voltan.