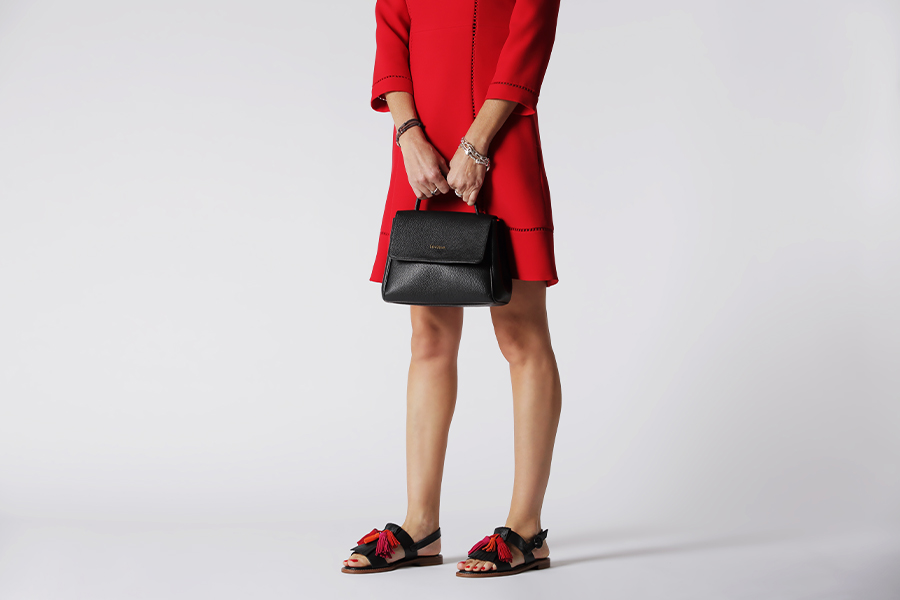 Item LV044 Black
Voltan's LV044 item is an elegant, comfortable, romantic and modern sandal with a 20 mm heel, in matt black leather, an accessory with fuchsia, red, burgundy and orange suede tassels. The insole and sole are in leather.
The must-have for this spring-summer season to have in your shoe rack is definitely the sandal; it can in fact be worn with a simple, casual, formal or elegant look.
A simple and casual idea could be to combine the LV044 item with jeans, t-shirt and jacket. For example, we can opt for fit mom jeans in denim, a classic red solid color t-shirt, a burgundy solid color yarn jacket and finally give a touch of romanticism to the look with item LV044 in the black version by Voltan.
For a more formal look, we can combine the sandal with cigarette trousers and blouse. For example, we can wear a solid color orange linen cigarette trousers and a classic black blouse with short puff sleeves and wide lace collar, finishing the look with the Voltan LV044 sandal in the black version.
If we want to wear the sandal with a more elegant look we can instead combine it with a dress. One idea could be to wear an apron-style dress with a medium-length skirt, short sleeves with ruffles in a white and red striped pattern, concluding the look with the LV044 item in the black version by Voltan.