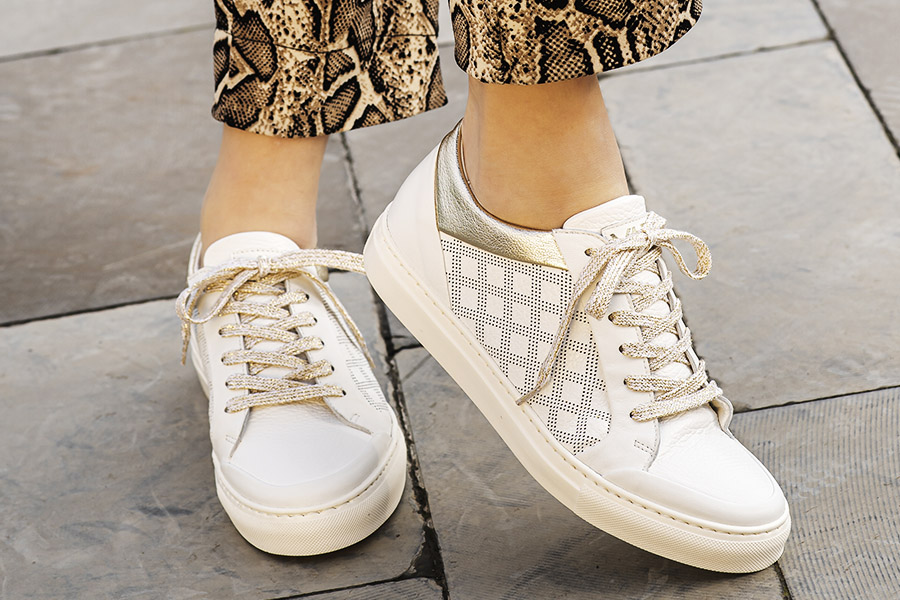 Item 39110
Voltan's 39110 item is a modern sneaker in perforated white leather with platinum-colored leather inserts and rubber sole.
Sneakers are among the "must" footwear, to have absolutely in your shoe rack; they can be worn with both casual and more formal looks, skirts and dresses.
For a casual look, for example, we can combine Voltan's 39110 item with black skinny jeans and a wide ribbed camel-colored top with three-quarter sleeves.
For a more formal look we can combine the sneakers with a khaki green solid color culottes trousers fastened at the waist with a bow, a plain white blouse with long veil sleeves with embroidery, and finally a patterned blazer checkered in green and white.
If, on the other hand, we want to wear item 39110 with a skirt, we can choose a medium-length pleated one in a plain beige color, and combine it with a plain colored body in platinum with a wrap neckline and long balloon sleeves with a belt at the waist. .
By opting for a dress in combination with the sneaker, creating a formal but fashionable look, we can choose a medium-length apron model dress, in floral pattern with a black base and white flowers, with a V-neck and ruffles in the sleeves.