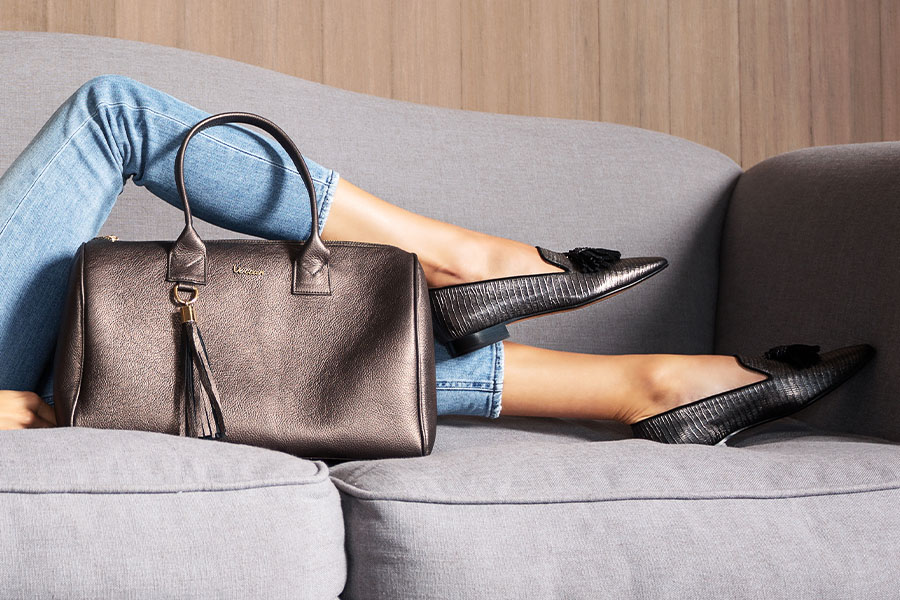 Look with Fall 2020 moccasins
Moccasins are a must-have footwear for all seasons, and even this fall we can wear them to create truly fashionable looks.
In this new article we see together some autumn looks to create with Voltan's moccasins present in the Fall/Winter 2020 – 2021 season.
The first look we have chosen for you consists of jeans, blouse and moccasin. For example, we can choose to wear a denim fit mom jean and combine it with a romantic dark blue solid color blouse with a bow on the neck, ending the look with a moccasin like item 72148 in reptile denim version by Voltan.
The second we propose is a casual but comfortable and fashionable look made up of a balloon skirt, cardigan and moccasin. We can create it by combining a medium-length balloon skirt in solid color in black velvet, a simple cardigan worked in plain cotton in burgundy color and a moccasin like item 72138 burgundy version by Voltan.
The third look we have designed for you is made up of cigarette trousers, top, blazer and moccasin. A formal look, which we can wear to the office or to an important appointment; for example, we can choose to wear cigarette trousers in a black and gray checked pattern, a plain gray top, a plain black blazer and finally match a moccasin like item 72148 in black varane version by Voltan.
The fourth and last look that we advise you to create in this fall 2020 is made up of an apron dress and moccasin. A look to wear both for an evening with friends and for an afternoon in the center, for example we can choose a medium-length apron dress in solid camel color with flounced skirt and an elegant moccasin like item 72159 in blue navy version by Voltan.