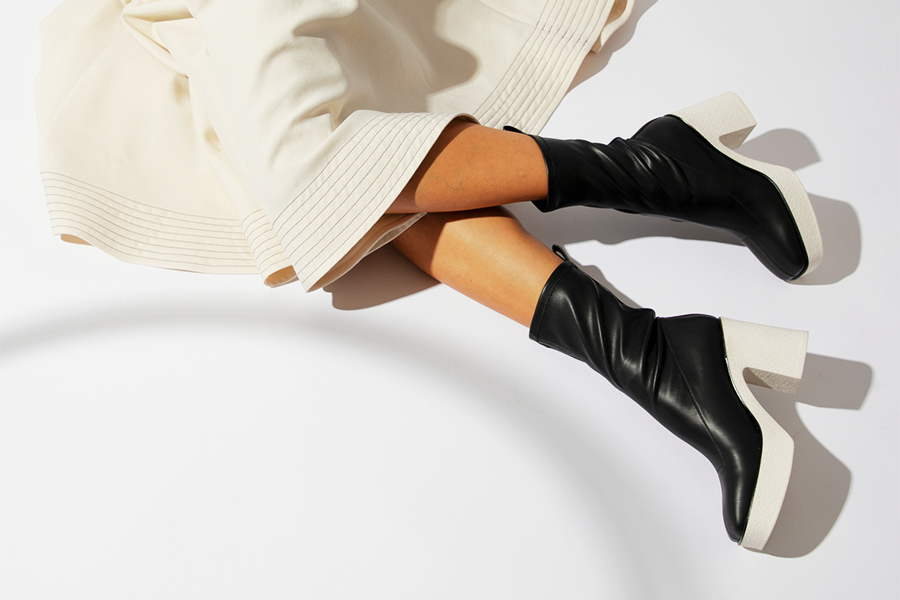 Free time looks January 2023
Occasionally it is essential to have some free time for oneself, to spend with someone or alone. It's important to take a break from work and everyday life.
These moments serve to relax us and certainly increase our well-being both physically and mentally, which is why every now and then we need to carve out some empty spaces to fill with pleasant and regenerative activities.
But have you ever wondered what the right outfit is for these moments of leisure and recreation?
We have created four outfits for you that you can show off in these carefree situations!
The first outfit you can wear consists of a knitted dress and ankle boots. For example, the knitted dress is in a turtleneck style, knee-length, super-soft with turn-ups at the cuffs, in a solid olive-green colour, and the ankle boots in elasticised faux leather, with a 10 cm heel, 2.5 cm platform, 100% leather lining and insole and white para sole, like the item V7072 in the black version by Voltan.
The second look we propose consists of shorts, a cardigan, and boots. The shorts are made of leather, high-waisted and with a bow at the waist, in a solid beige colour, the cardigan is hand crocheted, bohemian-style comfortable fit, in shades of brown, and the boots are made of stretch suede with an extra light micro sole, like item S838 in the dark brown version by Voltan.
Another combination can be created with a skirt, a top, and heeled loafers. The indigo-coloured denim skirt, the velvet top with long sleeves and a square neckline, in a solid blue colour, and the moccasins in soft natural Nappa leather with a 7 cm heel, like item LV222 in the cobalt blue version by Voltan.
As a last proposal, we recommend trousers, a cardigan, and sneakers. The trousers are a tapered tailored model in a solid black colour, mil cardigan with fur trim, in a solid wine colour, and finally the sneakers with an internal velvet zip, bronze and burgundy varnished leather inserts, with gunmetal coloured metal applications and rubber sole, like item AV646 in the black version by Alexandra Voltan.