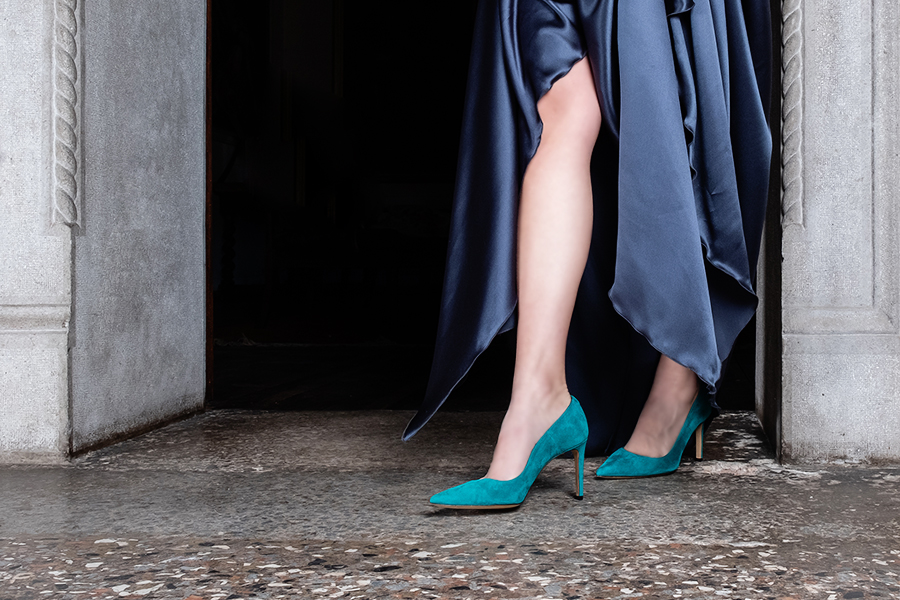 How to match the Décolleté
The décolletés for Women are probably the most fascinating shoes and in fact they are to be considered as a passe-partout to be worn with any outfit and (almost) any occasion.
There are various types of décolleté: with a high stiletto heel, with a wide high heel, with a midi heel, multicolored or in solid color and in various materials. Let's say that you are really spoiled for choice.
In this new article we see perfect looks to match the décolleté at best.
Let's start with the first look, classic and elegant, made up of sheath dress and décolleté with stiletto heel. For example, we can choose a classic sheath dress with a knee-length skirt in the classic black color and give a touch of elegance and color thanks to a colored décolleté with a stiletto heel like the AV550 item by Alexandra Voltan.
The second look we have chosen for you is a casual look composed of jeans, shirt and décolleté. We can wear a boyfriend denim jeans with a floral patterned shirt with a red base and combine the look with a décolleté with a large heel like the AV532 by Alexandra Voltan, with details in the heel and color tip in contrast to the rest of the upper.
The third look we recommend is an elegant and sophisticated look, composed of tuxedos with a masculine line, tank top and décolleté. A perfect look is composed of a white tuxedo with a tank top in shades of turquoise and a particular décolleté with a large heel such as the AV513 item by Alexandra Voltan, embellished with colored rhinestones.
The fourth look we offer is a trendy look made up of jeans, top, blazer and décolleté. For example we can opt for a white skinny jeans and combine it with a basic dark gray top and blazer in shades of light gray with a simple décolleté but with some detail like the AV536 by Alexandra Voltan, with the play of colors that recalls the gray and white.
The fifth and last look is a romantic but casual look and is formed by the combination of skirt, t-shirt and décolleté. An example of look? Black tulle skirt with calf length combined with a basic and simple electric blue t-shirt inserted inside the skirt to be matched with a colored décolleté like the AV551 item by Alexandra Voltan that gives the look a touch of color and movement.