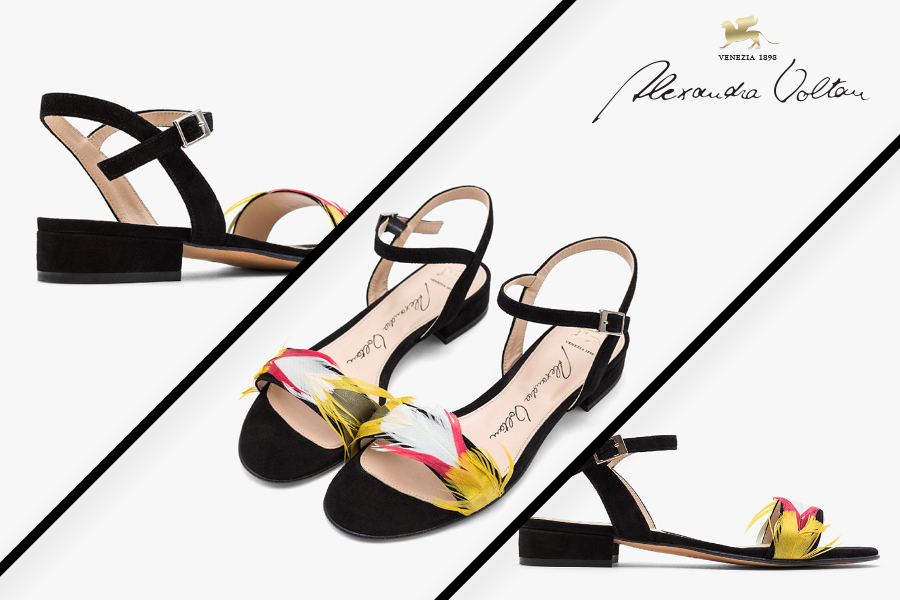 Item AV312 Black
Item AV312 is a comfortable, romantic and elegant black suede sandal, with multicolored feather applications, 30 mm heel and leather sole.
Sandals are undoubtedly the protagonists of the spring and summer season, a sort of passe pour tout that you must have in your shoe rack.
But how can we best match Alexandra Voltan's AV312 article?
For a simple and casual look, we can choose to combine the item AV312 in the black version by Alexandra Voltan with jogger-style trousers in plain-colored linen in a sand and mustard color and beige striped patterned blouse with a wide collar in beige lace.
If, on the other hand, we want to wear the sandal creating a more formal look, we can opt for a plain white pleated skirt, a hot pink solid color top with long batwing sleeves, concluding the look with the AV312 sandal in the black version of Alexandra Voltan.
Finally, if we want to combine the AV312 item in the black version by Alexandra Voltan with an elegant look, we can choose to wear a plain black dress with a medium-length skirt, elegant long lace sleeves and a sweetheart neckline.