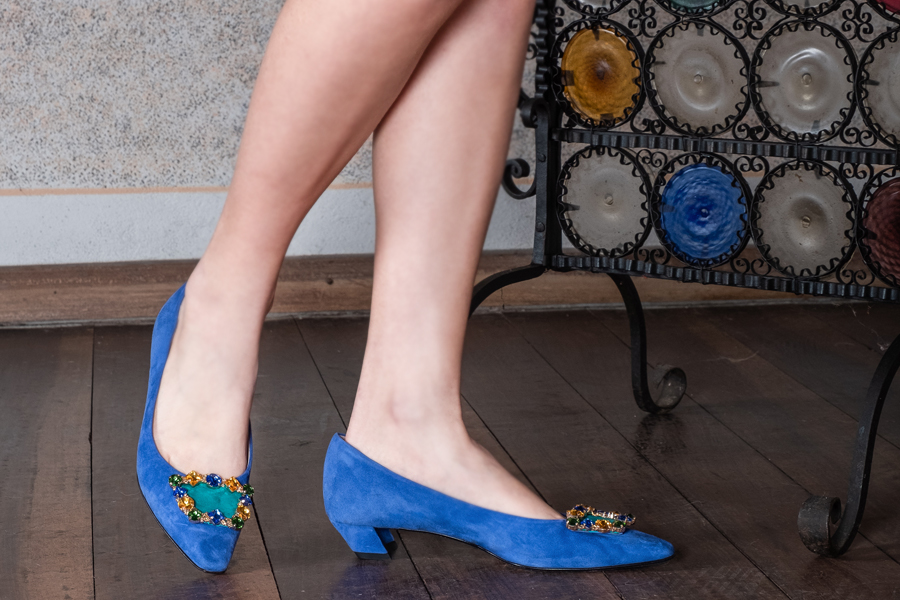 Spring Summer Look 2019 Part 2
In this new article we will give you new look ideas to create to keep up with fashion for this Spring Summer 2019 season.
Let's start with the first classic and elegant look made up of a skirt, blouse and loafers. An ideal look can be: black pencil skirt with below-the-knee length, simple gold-colored blouse and loafers with midi heels like the AV559 item by Alexandra Voltan, embellished with golden decorations.
The second look we are proposing is a trendy look consisting of palazzo pants, a tank top and décolleté. For example, we can choose to wear white palazzo pants and a tank top in shades of blue with a décolleté with midi heel such as the AV553 by Alexandra Voltan in the "Cabiria Nota Edera" version, embellished with colored rhinestones at the front of the shoe.
The third is a look that combines comfort and fashion and is formed by the combination of jumpsuit and classic décolleté. We can opt for a solid-color or midnight blue jumpsuit and combine it with a high-heeled stiletto suede décolleté like the AV550 item by Alexandra Voltan.
The fourth look we recommend is a casual look and is composed of skinny jeans, blazer and loafers. We can opt for a skinny denim jeans with a white blazer and a belt at the waist and a slingback loafer, ie with a semi-bare heel, like the AV524 item by Alexandra Voltan.
The fifth and last look is a romantic and particular look made up of a dress with a long skirt and sabot. For example, a perfect look is: a black dress with a long openwork lace skirt paired with a particular high-heeled sabot like the AV500 item by Alexandra Voltan. To conclude the look we can combine a clutch, accessories and golden jewels that reflect the gold color present in the shoe.
Part 1
Part 3
Part 4