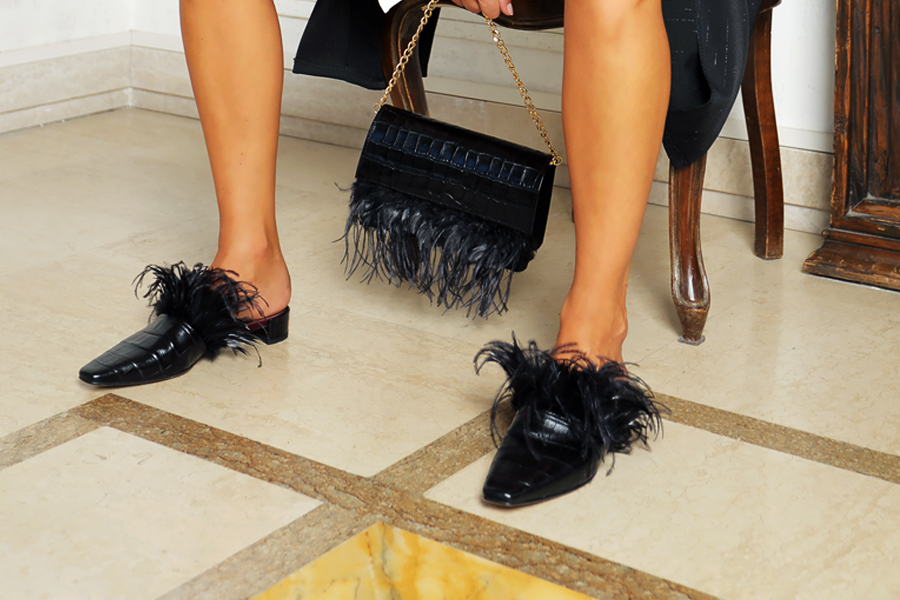 Office Look Winter 2021
In this new article we will see together some look ideas to wear to the office in this winter 2021, created with Alexandra Voltan's Fall/Winter 2020/2021 shoes.
The first look that we propose is composed of cigarette trousers, top, blazer and sabot. A modern look but at the same casual chic that we can create by combining together a cigarette trousers in a gray, white and black checked pattern, a classic top in plain white, a solid black color blazer and finally a sabot with a particular low heel such as item AV810 in black version by Alexandra Voltan.
The second look we have chosen for you is made up of fit mom jeans, shirt and ankle boots. To create this look we can choose high-waisted fit mom jeans in denim, a shirt with puff sleeves in animal print and, to finish the look, a comfortable and elegant ankle boot with midi heel like item AV642 in black version by Alexandra Voltan.
The third look that we recommend is composed of a shirt dress and high boot. An example? For a romantic look but suitable for wearing in the office, we can opt for a shirt dress with a medium-length ruffled skirt in solid burgundy color and combine it with a high boot with a low heel such as item AV435 in black version by Alexandra Voltan.
The fourth and final look we have designed for you is made up of longuette, blouse, vest and décolleté. An elegant and formal look suitable for an important meeting; to create it we can choose to wear a solid color midnight blue longuette, a classic white blouse in solid color, a blue and white diamond patterned vest and finally opt for a décolleté with midi heel like the article AV717 in the blue version by Alexandra Voltan.