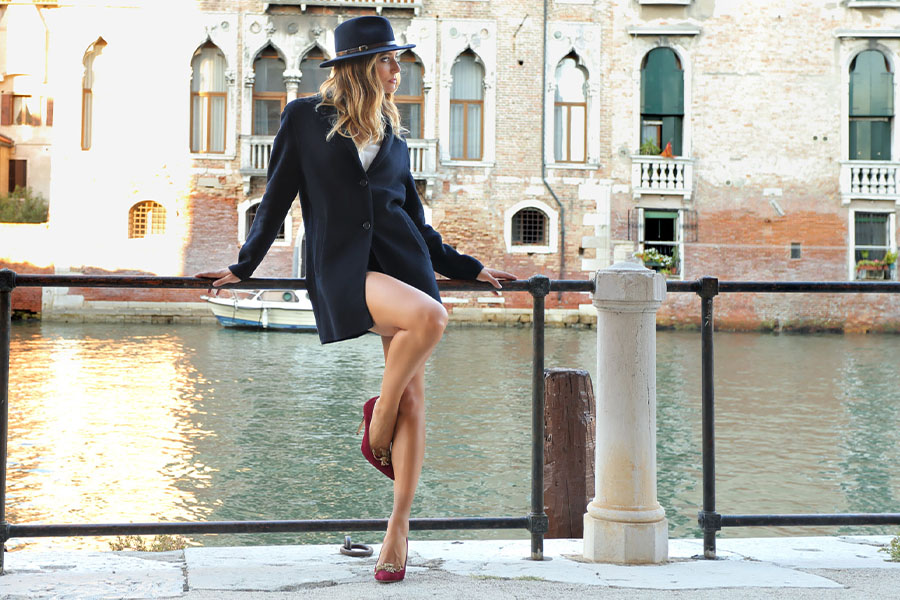 Elegant Looks, November 2020
Those who wear an elegant style, for work needs and those who instead for personal taste, are always looking for new ideas.
In this new article we will see together some elegant looks to create wearing Alexandra Voltan's shoes in this November 2020.
The first one we have chosen for you is composed of cigarette trousers, shirt, blazer and décolleté. For example, we can choose to wear a camel-colored solid-color cigarette trousers, an elegant gold-colored satin shirt, a blazer coordinated with the trousers and finally a high-heeled décolleté as item AV654 in dark red version by Alexandra Voltan.
The second look we propose is made up of midi dress and boot. A comfortable but at the same time elegant and bon ton look, which we can create by combining a medium-length dress in fantasy with a black base and silver-colored polka dots, with a high collar, puffed sleeves and ruffled skirt, to one particular and elegant boot with midi heel like item AV435 in black version by Alexandra Voltan.
The third look we have designed for you is instead composed of a midi skirt, blouse and décolleté. An elegant and sophisticated look that we can create by choosing to wear a medium length skirt in solid color in black with particular curls on the sides, a solid color blouse in military green with a V-neck and buttons in the part of the collar and cuffs , and finally opt for a simple but elegant style décolleté like the item AV079 in black version by Alexandra Voltan.
The fourth and last look that we recommend you create, elegant but with a touch of modern style, is made up of palazzo trousers, cardigan and ankle boots. We can combine a black and gray checked patterned palazzo trousers with a solid colored anthracite wool cardigan and finally an elegant and particular ankle boot such as item AV642 in black version by Alexandra Voltan.