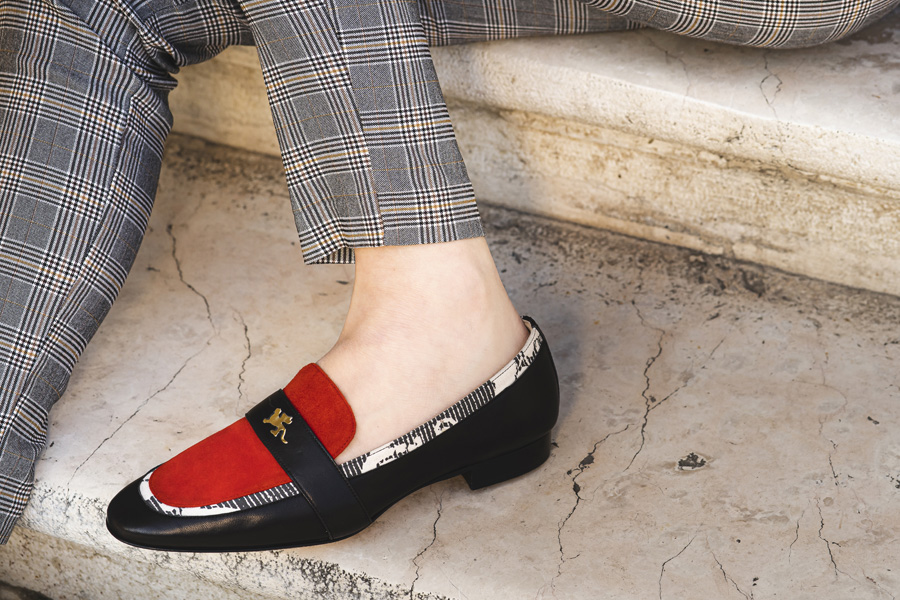 Look with moccasins, fall 2020
As we all know, with moccasins you can create multiple looks; they are a real must for all seasons!
In this new article we will see together some looks to wear in this fall 2020 with Alexandra Voltan's moccasins.
The first one we have chosen for you is composed of trousers, blouse, blazer and moccasin. For example, we can choose to wear classic black cigarette trousers, a solid anthracite colored blouse, a black and burgundy checked bouclé blazer, finishing the look with a moccasin like item AV704 by Alexandra Voltan.
The second look that we propose, romantic and casual at the same time, consists of a shirt dress and moccasin. We can opt for a medium-length shirt dress in solid color in light blue with a matching belt at the waist and long sleeves and combine it with a particular moccasin such as the blue version of item AV369 by Alexandra Voltan.
The third look we have designed for you is made up of jeans, shirt, blazer and moccasin. An example? We can wear skinny denim jeans with a black and powder pink checked shirt, combine them with an elegant solid black blazer with gold buttons and finish with a moccasin like item AV369 pink version by Alexandra Voltan.
The fourth and final look that we suggest you to create with moccasins for this fall 2020 is made up of jumpsuit, blazers and moccasins. We can choose to wear a jumpsuit, with three-quarter sleeves in lace with a belt at the waist of the same color and material, in a solid color of camel color, combining it with a double-breasted blazer in solid color of antique pink, and finally with a moccasin. particular and colorful like item AV369 rose-aquamarine version by Alexandra Voltan.