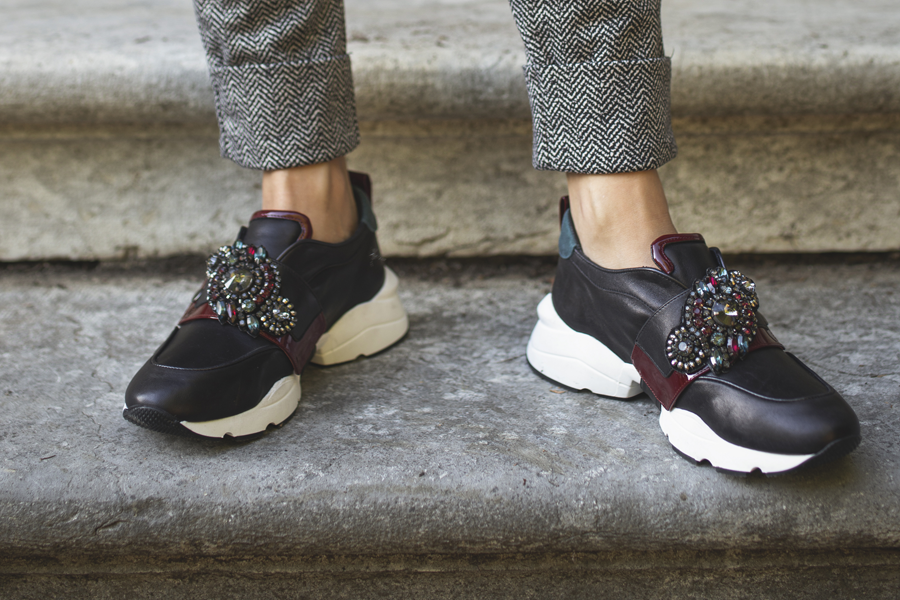 Item AV649
The item AV649 by Alexandra Voltan is a chic and refined sneaker.
The item AV649 is a modern and trendy sneaker, in leather with high sole and particular detail in the front part of the shoe with bright and colored rhinestone accessory.
The sneaker is a practical and comfortable shoe but this doesn't just mean sports shoe, for example, in fact, this sneaker by Alexandra Voltan is very eccentric and elegant.
With a sneaker you can therefore create sporty looks but also more elegant or casual looks and can also be worn with sophisticated clothes.
In the case of a casual look but with a touch of elegance, you can combine the item AV649 by Alexandra Voltan with a suit consisting of trousers and a black blazer with a white top.
For a more elegant but modern look, we can choose to combine the sneakers with a black pencil skirt with side slit and a green and black checked shirt.
On a special occasion where an elegant dress code is required, the refined sneakers can be combined with a medium-length dress with a green pleated skirt.